Panel Replacement
Customer Issue: A parking accident inflicted middling damage on the customer's garage door. She needed several panels and hinges replaced, and some doctoring done on the bent tracks.
Our Solution: After disconnecting and removing the garage door, our first order of business was to inspect the tracks. They were both bent around the middle, but the customer said she'd rather we repair them than replace them. We bent them back into shape and reinforced them, and then replaced the damaged garage door panels and hinges before reinstalling the door.
Linn Jaryth
- Pompton Lakes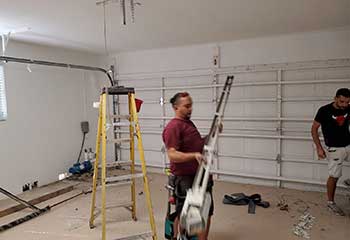 Garage Door Installation
Customer Issue: The customer had an unsecured garage, and his car got broken into while parked in it. He decided to install an automatic overhead garage door to prevent this from happening again.
Our Solution: We installed a Raynor Advantage series steel pan residential garage door. For the opener, we used a Chamberlain RJO70 wall mount to save room in the customer's small garage and programmed its included smartphone app. The new garage door system performs its job admirably, and the RJO70's security features made the customer particularly pleased.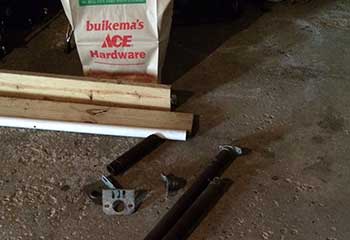 Broken Spring Replacement
Customer Issue: This customer kept track of his spring replacement history, and knew ahead of time that his pair was about to go. He arranged for a spring replacement session before either of them could break and make this more troublesome.
Our Solution: The springs were still functional, but we could see how time and use had taken their toll. After disconnecting the garage door, we eased the tension out of the torsion cones and then uncapped them to remove the springs. After cleaning and oiling their housing spindles, we installed the new pair of torsion springs and reconnected the garage door for testing.