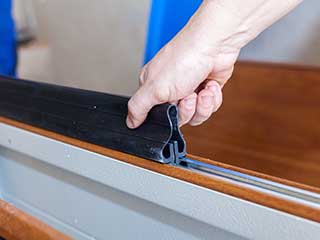 Your garage plays an important role in your home. This is in one place where you can store your precious belongings, apart from your car, bicycles, and other vehicles. You can also turn it into a more functional space, such as a TV room, a den, or a home office. This is why you must make sure to keep it in good condition.
One way of sprucing up your garage is weather-stripping the door.
It helps you keep the area well-insulated during winter by keeping the heat in and preventing the cold air from entering, thus giving you lower electricity bills.
Weather-stripping involves using products, such as door seals, weather strips and tapes, and much more. Installing it can be difficult though, especially if you are not an expert. That is why it is essential that you know whom to call. When it comes to this, you can always trust our team of experts to provide you with the services you need.
Hiring The Experts
A lot of people ask why it is crucial to hire the experts when they can do the task on their own. DIYs can prove to be disastrous, especially when the job involves something that you are not familiar with.
If you are planning to do the job on your own, perhaps you should know about some disadvantages of DIYs:
You are not guaranteed of quality results.
You have the tendency to fail because of lack of skills and knowledge.
You will experience a sense of dissatisfaction with your work because you know you have limited capabilities in the first place.
Therefore, when it comes to weather-stripping your garage doors, it always pays to hire our professionals. DIYs will only lead you to disasters, making your home more susceptible to high electricity bills in the end.