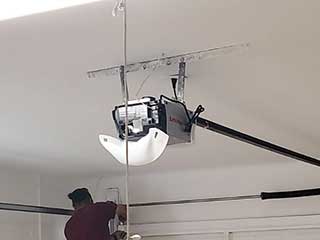 Stop asking yourself about how dangerous your overhead door might be and start wondering what precautions are you taking? What do you do when you want to repair or even check some parts? Following the right safety precaution steps is a must. Don't forget that accidents don't happen without a good reason. Also, keep in mind that people don't get injured only when they put their fingers in the joints. You must never forget that garage doors weigh a lot. Their heavy load can cause fatal accidents. You must also remember that when electric openers are involved, they must be unplugged. Electric power can kill!
Disconnecting The Opener Is A Matter of Safety
There are tens of different garage door parts, which can hurt you when you approach too much or try to remove them. From brackets to springs, every part can be a potential danger to your wellbeing. For this reason, it's important to keep your distance. If you want to approach them in order to check them out, avoid wearing loose clothes which might get caught and provoke accidents. Also, wear gloves and safety glasses. Above all, disconnect the electric garage door opener.
In some instances, disconnecting the electric operators is part of the routine check. If you want to check the balance of the door, for example, you must disconnect it from the opener in order to see if it will remain steady with the help of the springs. The point is that electric openers must be disconnected and, as a matter of fact, unplugged EVERY time you want to check components. Don't forget that problems with the electric circuit or the opener wires might cause electrocution.
There is also a chance that your child will press the garage door clicker when you are standing under the door getting your tools in order. Will you have time to move away? Is the reverse system working? How about your fingers? What will happen if you had them in between joints? You must never forget that accidents happen easily. One wrong decision or move and you can lose a finger. Always disconnect and unplug the opener before you do any work and remember to put c-clamps on the door to keep it steady even if the garage door springs are fine.